Airgraft Members pay
only for the oils.
Airgraft Members pay only for the oils.
We exclude the cost of empty pods and packaging, and pass the savings to our members.
Get your starter kit
delivered today.
Get your starter kit delivered today.
Purchase the Airgraft 2 Battery and premium pods at Member's prices, and get it delivered to your door for free.
Delivery available in LA, SF, and Sacramento.
Airgraft 2
Engineered for more
Airgraft 2
Engineered
for more
1 gram pods.

More flavor


to the last draw.
Optimized heating profile for each extract. Only FDA recognised, heated food - safe materials.

No Burn. No contaminants.
No filter.
No oil loss.
Get up to
40% more

*
out of a gram.

* Total vapor available per gram
* Total vapor available per gram
No oil burn
for
true vapor


& high potency.

* The amount of vapor produced
* The amount of vapor produced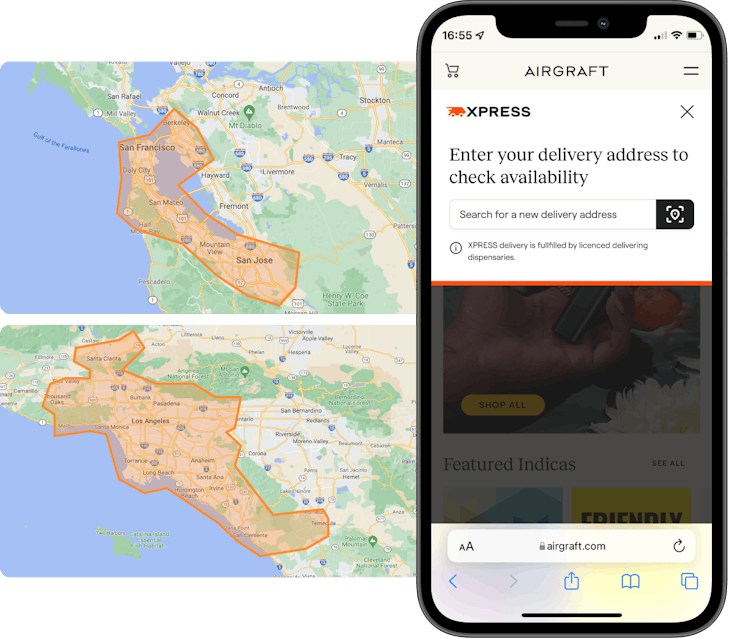 XPRESS connects you to delivering dispensaries across California. Discover the freshest Airgraft pods and get them delivered to your door.
XPRESS delivery is fulfilled by licensed delivering dispensaries & products may differ depending on region. For a full listing of cities, click here.
Frequently Asked Questions
Airgraft is a vapor platform serving award-winning cannabis brands that make some of the world's best extractions. Our technology serves cleaner, better tasting vapor in pods that are food safe, and last up to 40% longer than other cartridges. New extracts are added monthly for you to discover and enjoy.
Why do I need a membership?
Airgraft membership allows you to enjoy the most sought after extracts for less.
How, you ask? Typically, cannabis brands buy vaporizer cartridges, tech and packaging, fill them, and then they are sold through wholesale, retail, after which you buy them. At each step, costs are marked up. Airgraft removes the technology, pod and package costs from all of these markup steps, so when you buy Airgraft pods, you are truly paying for the cannabis only. This saves you a bunch from the very first pod.
Your Airgraft 2 membership allows you to unlock unlimited pods on the Airgraft platform, subject to Fair Use Policy, and Airgraft Terms and Conditions.
If you're not enjoying Airgraft often enough, you can simply pause your membership in 'Account Settings'. There are no fees and you can pause at any time for up to 3 months. If you pause with time left in your monthly billing period, you'll continue to have access until the end of your cycle.
Pods you unlocked as a member stay unlocked and you can continue to use them.
How do I pause or cancel?
You can pause or cancel at any time. If you wish to pause or cancel your membership, you can do so without incurring additional fees by going to Account Settings > Manage Membership > Pause OR Cancel Membership prior to your renewal date. You can resume your membership whenever you're ready.