high
tech
high
tech
Empowering oil brands across North America to deliver more flavor and higher potency to their customers
high
tech
high
tech
Empowering oil brands across North America to deliver more flavor and higher potency to their customers
Airgraft's cannabis pod vaporizer system takes the flavor, the experience and the safety of your oil to the next level. We methodically apply science, engineering and great design to advance the art of cannabis vaporization. 
3 Reasons Why Airgraft is Better
3 Reasons Why
Airgraft is Better
1
We empower the best oil producers to deliver the best tasting and most potent vapor experiences.
Minimizing disturbance to the terpenes and minor cannabinoids in your great tasting extracts is critical. Airgraft's mechanical structure ensures that extracts are only heated when they are being vaporized and uses a gravity-fed high porosity ceramic wick to achieve high vapor performance without degrading the oil, unlike systems using a metal chimney constantly in contact with the oil.
2
We ensure the consistency and the quality of your vapor experience.
Everyone claims this, Airgraft is the only company that takes it seriously. Enabled by battle-tested heating algorithms that have powered over 10M+ draws to-date, we ensure consistency in 3 key dimensions:
1. Minimal difference in experience between short and long draws,
2. Minimal difference in experience throughout the life of the pod
3. Minimal difference in experience between a single draw session and a session with many consecutive draws.
3
We safeguard emissions safety in addition to the stringent materials and oil safety standards.
Hardware material (aka plastics, ceramics) and oil safety are mandated by regulation and we meet and exceed all the required standards. We take it beyond regulation by testing emissions safety. Your patients well being is of paramount importance to us.
Integrity throughout the platform
Pod Structure
To resolve the flavor consistency issue and create a pod system that performs exceptionally for all types of extracts, the Airgraft team designed a labyrinth airflow channel around the pod in the Airgraft 2 Pod.
This gravity-fed pod relies on capillary motion for wick saturation and eliminates metal contact with the extracts chamber. It uses a high porosity ceramic wick to heat up only the extracts that are vaporized by the user during the draw, creating a much more consistent flavor experience for users. Today, smooth taste and tasty flavor are two of the top five comments received for the Airgraft 2 Pod.

The circuitous path created by the airflow channels also prevents the escape of larger aerosol particles and eliminate the leaking of oil, enabling the Airgraft 2 Pod to be filterless. In internal lab testing conditions, we noted that this design reduced yield loss by up to a factor of 2 while also reducing the incidences of oil leaks.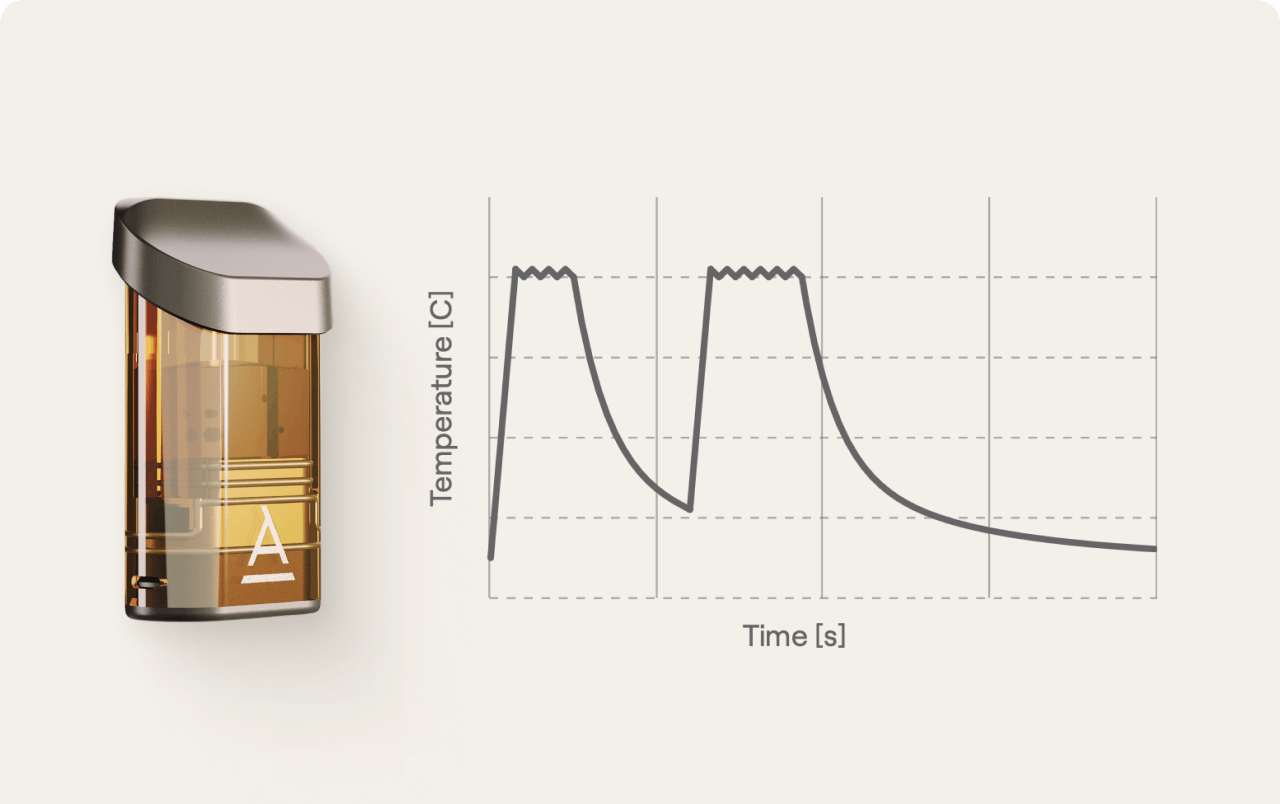 Heating
Airgraft 2 features a highly sophisticated heating algorithm. Specifically, the Airgraft 2 Pod is capable of supplying a wide range of power increments. This power can also be varied during the draw to safeguard against overheating during longer draws.
To prevent heat build-up during consecutive draws, we've adapted the heating algorithm to take into account the intensity and timing of previous draws.
The outcome of these changes is a set of over 4,000 viable power configurations that can be finely tuned and matched to the specific constitutions of the extract (e.g. viscosity, boiling points, prevalence of cannabinoids and terpenes, purity of the extract, etc.).

The large range of settings allowed us to serve extracts to the best of their expression, and continued iteration allowed us to improve user ratings of extracts from initial score of 4.0 / 5.0 to 4.7 / 5.0 for subsequent releases.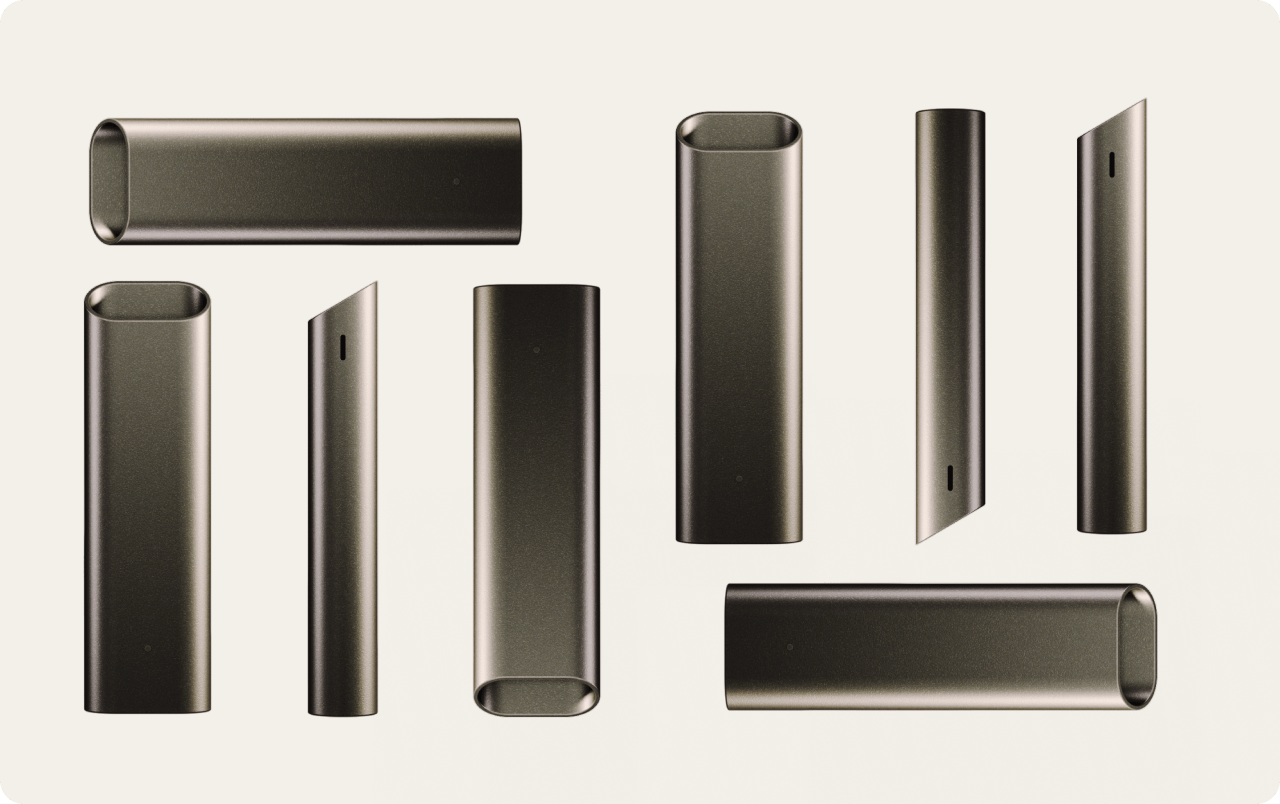 Airgraft Battery
Airgraft 2 contains a state of the art, 335 mAh UL Safety Certified, Lithium Polymer battery, featuring a safety  protection control circuit. It lasts up to 3 weeks on a single charge and features a USB-C charging port.
To ensure experience repeatability and dosing control, our batteries feature haptic feedback. Users are able to find their perfect hit by counting the vibrations, then repeat, increase or decrease as needed.

Airgraft 2 Battery is ergonomically designed to perfectly fit into your pocket and hand. The standard model is precisely machined and anodized in aircraft grade aluminum, with a higher cost option for different finishes and high-end materials such as ceramics.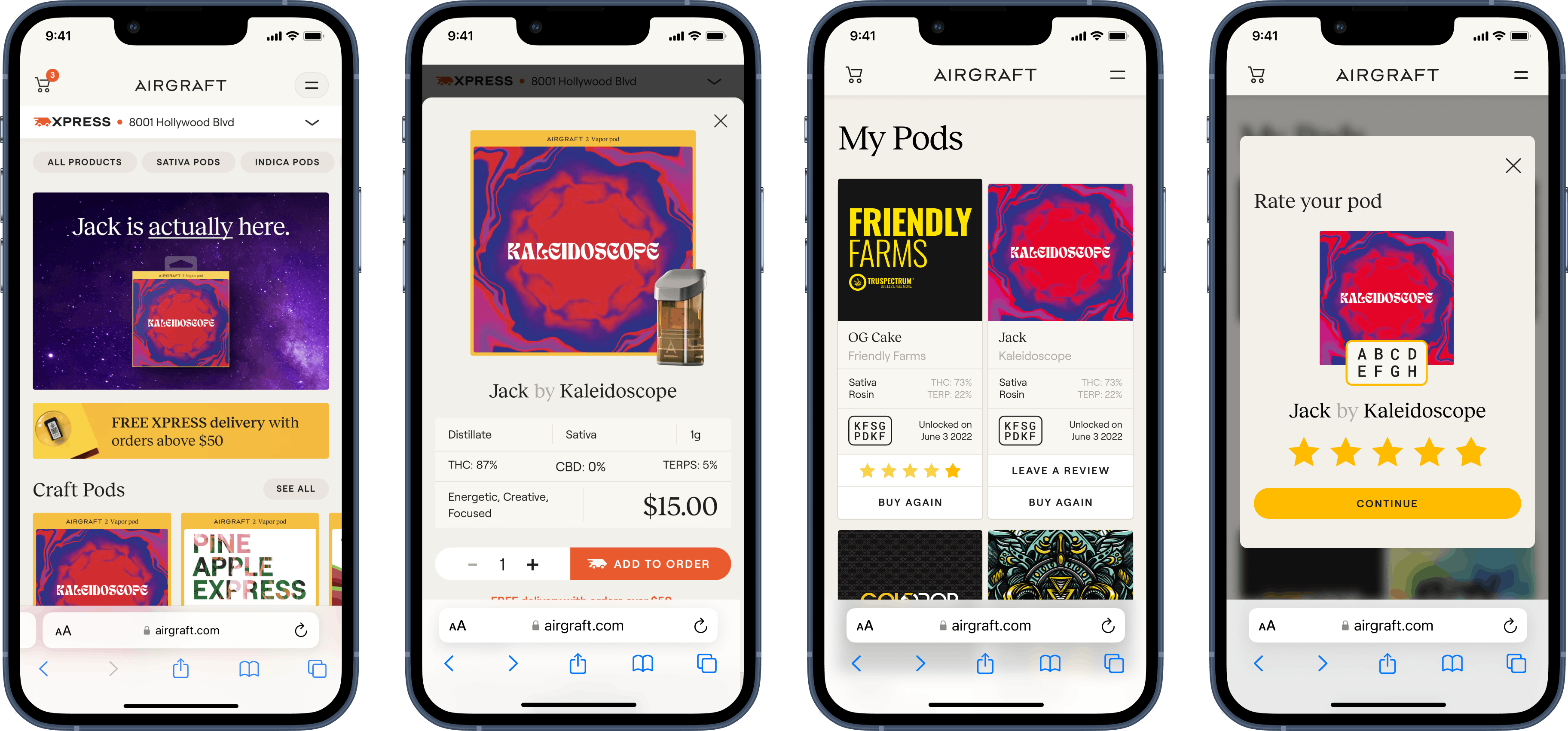 Digital Platform
Airgraft XPRESS, available in geographies that support delivery, is a modular UberEats-like consolidated e-commerce layer on top of the point-of-sale systems of each dispensary that carries Airgraft products.
Airgraft's unified digital interface accurately displays all product information, including the the respective compliance documents for each batch of extract and the transactional information (such as real- time inventory, pricing, and discounts).

The unique QR code on each pod not only guarantees verification and safety, it enables us to prompt users to give us valuable feedback. We analyse this information with our filling partners to create more products tailored to our customer's preferences.

In addition, Airgraft platform provides education and tech support via our customer service team and online resources.
Request a Sample Kit
Try and test Airgraft hardware with your extracts*.
Each kit contains:
8 Airgraft pods with pre-set heating algorithms:
2 x Flavor / 3 x Balanced / 3 x Vapor
2 Airgraft Batteries, Filling & heat settings manual
Request sample kit
*Oil brands & processors only.